I thought today, in honour of the Books Are My Bag initiative, I would share some of my favourite bookshops with you all. Obviously you will be heading to your local bookshop today and supporting them, if they are one of these then pretend I am there in spirit. Though actually if you are in my number one choice this afternoon it is quite likely that I will be there perusing the shelves and then head up for coffee and cake. So without further waffle or ado here are my top ten bookshops…
Scarthin Books, Cromford, Derbyshire
Scarthin Books has been a constant in my life from roughly from birth. Coming from Matlock Bath, which is just up the road, we would often go for a walk (not every week) that took us up and down the hills with a wonderful reward halfway along. I used to love spending a good hour or so in the small corridor room under the stairs which was the children's section whilst Gran and Mum explored the new and second hand books. Of course as I have grown up it has been a case of myself and Gran and/or Mum doing the same while someone waits upstairs eating a cake! Scarthin is a wonderful place, brimming with books and happy memories for me.
Scriveners, Buxton, Derbyshire
Derbyshire is doing well with my selection so far, true there is the bias of my background and homelands BUT to only think it is that is to do both Scarthin and Scriveners a disservice. Scriveners is like a wonderful maze of second hand books over five floors. Yes you read that right, FIVE FLOORS. So that you have a good old browse there are even free refreshments and sofas, you need a good few hours to wander and I doubt you will leave empty handed. Two additional fascinating facts about Scriveners is that they print books in house and also have a ghost!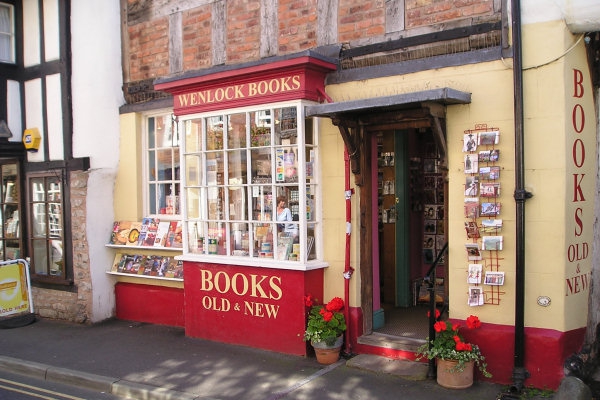 Wenlock Books, Much Wenlock, Shropshire
I think if I was ever to own a bookshop, which is the dream of many of us isn't it, then Wenlock Books would pretty much be it. They have a wonderful selection of new books downstairs which you feel are truly hand selected. There is also a wonderful array of bookish gifts (mugs, bags, etc) and stationery and then, if that wasn't enough, there is a wonderful floor upstairs that are crammed with second hand books. Wonderful.
The Book Barge, On The Canals of the UK
Floating along the canals of the UK, and possibly heading to Europe soon, is the lovely Sarah and her wonderful barge filled with books and even a house boat bunny on occasion. Here there are a mix of new and old books and it just feels like a wonderful haven bobbing up and down brimming with books. If the Book Barge is ever near your house then get yourself to it pronto! Sarah has even written a book all about running it which you will be hearing about here very soon!
Foyles, Charing Cross Road, London
I have always been a big fan of Foyles and when I was part of a London bookshop I would a) meet my other book group members before and b) buy the next book afterwards in the South Bank branch. I also loved spending hours on the old Charing Cross Road branch. I was slightly apprehensive about the 'new' one, but when I went there for a GCP meeting last month I fell in love. It is airy, spacious, has thousands of books, a wonderful cafe – let's face it I could move in. Expect a tour on the blog in the next few weeks!
Gays The Word, London
I remember when I first moved to London I went and hunted Gays The Word down. It was a place of legend. As a young gay man I used fiction as a way to discover 'people like me' and try and understand it all and indeed myself. I was too scared to go in and so looked at it, walked past, turned around, walked past and looked in again. I finally went in a year later. Since then I have always popped in and since becoming close friends with the lovely Uli there make sure I pop in on every trip back. They have brilliant events, often with booze  – booze and books are a wonderful mix, and it is like the history of LGBT writing opens before your eyes when you walk through the door.
Persephone Books, London
I am quite cross that I didn't discover this gem until not long before I left London, especially as I was such a fan of the books however for some bonkers reason I didn't connect the two. Perspehone Books of course only stock Persephone Books and there is something rather magical about that in itself. Now whenever I go back I make sure that I pop in and if I am lucky Nicola Beauman is in and we have a coffee and a natter. I always end up buying at least two or three books, how could you not?
Waterstones Deansgate, Manchester
I wanted to include Waterstones because whilst they aren't independent they are a place that I have spent many happy times and indeed have been a wonderful place to head to in unhappy times. Waterstones were always a treat, like Thorntons, to visit when myself, Mum and Gran went on shopping trips. They were the reward after wandering around a museum, cathedral, art gallery or three hour tour of John Lewis. I would be allowed to pick three books and that was my treat. In adulthood I have spent many hours wandering them with Polly, competing as to who has read the most. Deansgate is extra special to me because when I left London is was a haven and the place I would meet most of my mates. I also got to read Rebecca, well the first chapter, to an audience for World Book Night there, have been to some of my mates book launches there, even had (hope The Beard isn't reading) a few dates in there and ran a literary salon there for a while. Books and brilliant memories, with the odd splash of something sparkly. Lush.
White Horse Bookshop, Marlborough, Wiltshire
When I was a youth, and in my early teens, I lived in Marlborough in Wiltshire. The library was the place that we headed the most, however as a treat when I had been extra good (which in my teens wasn't very often, the telly got banned once) I would be allowed to go and get a nice new pristine book from the White Horse Bookshop which spans over a few floors. I haven't been in quite a few years but I heard from Naomi Woods, when she was at the Marlborough Literature Festival, that it is still wonderful.
= 10.  Lingham Booksellers, Heswall, Cheshire
Now I have a joint pair of books at number ten and that is because they are both local to me and very, very different in delightful ways. Linghams won the independent bookseller of the year last year and as soon as you walk in you know why. There are the latest must reads, unusual staff picks (from some of the most friendly and knowledgeable staff) and they have some corking events. They also do their own line of wonderful bookish gifts and I have a very special 'one off' purple Linghams bag which I am most proud of. Happy, knowledgable, friendly staff and a good selection are always a winner.
= 10. Oxton Village Books, Oxton, Cheshire
Finally there is the wonderful Oxton Village Books which used to be in the post office, and when I saw had closed down I almost physically wept, yet now resides in the wonderful Williamson Art Gallery and Museum which is roughly three minutes walk from my house. They only deal with second hand books inside BUT you can order new ones through them. They are my number one destination when I am looking for something slightly older or just fancy a browse and also when I have a good few bags of books that were sent unsolicited that I don't want – well after my mother gets first dibs obviously, in case she is reading this. The owners are wonderful and it feels like the perfect addition to such a cultural spot. Lovely stuff.
So those are the bookshops I would highly recommend. Obviously I have not been to every bookshop in the land, though wouldn't that be marvellous? I could write a Rough Guide to British Bookshops.  I have missed a few of my other favourites, but eleven seemed a cheat enough, I could also have mentioned any of the Daunt Bookshops, which are wonderfully organised by country which is a brilliant idea; I could also have mentioned the lovely Review Bookshop in Peckham which is run by the lovely Evie Wyld… There are so many!
So which bookshop will you be heading to? Which is your local favourite and do you have any other favourites that you think readers of this blog should visit? Have you any titles you have in your site that you might end up popping in your Books Are My Bag bag?